Ssuubi Henry Kiyimba: A Story of Hope
August 2019 saw the start of another semester at Makerere University (MUK) in Kampala, Uganda. Students from all walks of life flocked the university, to many, a dream come true. If you have been admitted to MUK, you probably can relate.
For the reporting period of first time (freshers) MUK students, the hashtag #HeyFreshers was used on Twitter. All and sundry 'jumped onto' it while sharing pictures of unsuspecting students and making unsolicited comments meant to provoke or for the fun of it.
One such tweet was of a male student carrying a black backpack, blue metallic suitcase and a large shopping bag in his right hand making his approach to University Hall, one of the many halls of residence at MUK.
The tweet said, '#HeyFreshers A rare picture of a fresher attached to University Hall (U.H) reporting today with his S.1 metal case and Osoufia (insert laugh emojis)'. It was the morning of August 6th.
What followed was nothing short of miraculous. The tweet attracted the empathy of many, led in large part, by Ugandan journalist with the BBC, Allan Kasujja. In his quote of the mocking tweet, he asked if anyone knew who the student in the picture was stating, 'We want to lay a table for him before his shamers!' and calling on his friends from the media and other professions to join him in this. It was the afternoon of August 7th.
In no time, good-willed Ugandans were moved not only to find out who the mocked student was but many of them wanted to give financially and materially.
His name is Ssuubi Henry Kiyimba. He was admitted on a government scholarship to pursue a Bachelors Degree of Science with Education (Economics) after attaining 17 points at UACE from St. Bruno Sserunkuma S.S Goli where he studied Physics, Economics, and Mathematics (PEM).
After the pleas came the pledges. With the help of Mathias Ssemanda, a digital marketing consultant, Cedric Babu, head of corporate communications, sales, and marketing at Uganda Broadcasting Corporation (UBC) found and met with Ssuubi. He shared his needs and among them was a school fees debt of Ugx 2 million owed to his high school where his UACE pass slip was withheld. By 11th August, Ugx 1.57 million had been collected from well-wishers. His other needs were a laptop, beddings, clothes, stationery, a suitcase, a mobile phone and food which Ruth Aine, a blogger, published as Sssubi's wish list. After offering to provide Ssubi a suitcase and toiletries, she appealed to friends and followers to see what they can tick off the list. Faith Liam Mulungi, a presenter on 104.1 Power FM and her listeners offered to provide beddings. A one Hashim Wasswa offered a laptop and clothes. Shoes, a smartphone with unlimited data and airtime came from a one Dennis Kakonge. A one Alonso Daniel said, 'I am willing to get him a brand new leather suitcase, 6-inch mattress, iPhone 7 and take him shopping for new clothes and shoes…' The 2 million school fees debt was cleared.
This definitely got the attention of the staff at Makerere University especially the Vice Chancellor Prof. Barnabas Nawangwe. This was because the course Ssuubi had accepted at the university was not his course of choice and he desired to pursue Civil Engineering. Several pleas have gone out to MUK to consider this change of course. An engineering firm, Joadah Consult and Development Infrastructure, has pledged to fully sponsor Ssuubi should Makerere offer him Civil Engineering. Prof. Nawangwe said this is a matter they will look into. Allan Kasujja added that this offer of full sponsorship might be the fourth he has heard about. Prof. Nawangwe went ahead to meet Ssuubi and tweeted, 'I have had the pleasure to meet Mr. Ssuubi Henry Kiyimba the student who was mercilessly attacked on social media as unfit to come to Makerere. I have encouraged him to enjoy his stay at Makerere and work hard on his future career.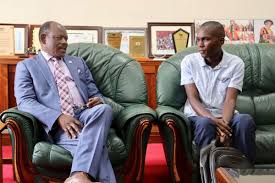 Words have creative power and every time his single mother, Rose Nalwanga, called out Ssuubi, she spoke HOPE, its meaning, into (his) life. And hope does not disappoint. His journey from Mpigi District where he hails might have been rocky but it is safe to say he has found himself a soft and safe landing.

None of this would be possible if it was not for the generosity and giving hearts of our community, Uganda. To everyone who made a pledge, a plea, contributed to making the plight of Ssuubi viral or called out to their friends, fans or followers to help out, hunted him down or told his story in a bid to rally the public to give anything to change his life, you are a philanthropist. You are a giver; of your time, attention, skills, money et al. We celebrate you! Keep giving!